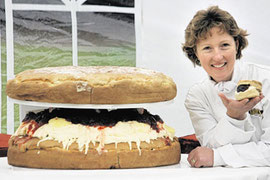 最近のスコーン作りに、はまっている。
I make scones well recently.
今日は、ヨーグルトと紅茶の葉の入ったスコーンを作った。
I made scone with yogurt and tea leaf today.
この前は、バナナスコーンを作った。
I made a banana scone last time.
外は、さくっと、中はしっとり。
The outside is high-strung, and the inside is soft and fluffy.
カナダ製のメープルシロップをたっぷりかけて食べる。
I fully take maple syrup made in Canada and eat.
最高においしー。
It's so nice and good!!
スコーンは簡単に作れるから、
I can easily make the scone.
友達と昨日刺繍の会を作ったので、今度はスコーンの会も作ろうかな?
Because I open a meeting of the embroidery with a friend yesterday, will I open the meeting of the scone this time.
近々、みんなで巨大スコーンを作る会を開こう。
I open the meeting which will make a huge scone soon.