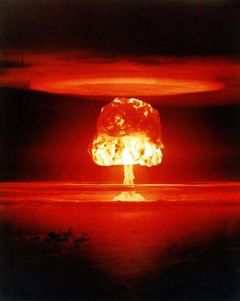 昨日見た夢のはなし
怖い夢
核戦争
世界のおわり
世界は、次々と核に汚染され、人々は、安全とされる場所へ向かう。
友達とわたしは列車を待つ。
電車にはたくさんの人が乗っている。
私達の乗車を乗っている人たちが拒む。
こわい、目に見えない核がこわい。
列車に乗れなければ、核に汚染されてしまう恐怖。
何とか列車に乗り、安全とされる目的地へと向かう。
しかし、本当にその目的地は安全なのか?
恐怖に怯えながら、目が覚めた。
夢だけど、やけにリアルだった。
北朝鮮の動き、核保持国のニュース。
潜在意識の中に植えつけられた恐怖が、わたしの夢になったのかもしれない。
夢が現実になって欲しいことはたくさんあるけれど、この夢が現実になることだけは避けたいと強く思った。
The story of the dream that I watched yesterday
A fearful dream
A nuclear war
A world end
The world is polluted in sequence by a nucleus, and the people go to the place said safely.
Friend and I wait for a train.
A lot of people get on a train.
Getting people refuse our ride.
A fearful invisible nucleus is fearful.
If cannot get on a train; the fear that is polluted by a nucleus.
On the train, I go to the destination said safely somehow.
However, is the destination really safe?
I woke up while being frightened by fear.
Though it was a dream, I was awfully real.
North Korean movement, the news of the nucleus maintenance country.
Fear planted in subconsciousness may have become my dream.
Though there was it, I was strong, and a lot of a dream wanting you to become the reality thought that they wanted to avoid only that this dream became the reality.