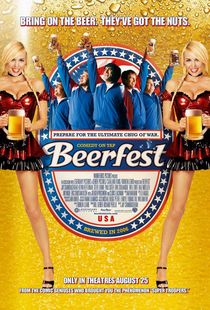 ジムの帰りに、友達のバーへ。
夕方の7時から、朝の6時まで居てしまった…。
オールかよ。
ジムで流した汗の何十倍もの量のビールによって潤う、からだ。
ビール党のわたし。
ビールっ腹にならぬように、ジムで汗を流しウエストを絞る。
終わって今日も、呑みに行く。
悪循環…。
それでもやっぱりビールが好き。
ビールで思い出した。
チョーおバカムービー。
Beerfest。
ビール呑み世界選手権。
チョー笑える。
In the way back of the gym to the bar of the friend.
There has been it from 7:00 of the evening to 6:00 of the morning….
All night ?
Health to be enriched by beer of the quantity of dozens of times of the sweat which I drained by a gym.
I of the beer-drinker.
I sweat and squeeze a waist with Jim not to become the beer belly.
I go to drink today too.
A vicious circle….
After all I still like beer.
I remembered it with beer.
A super fool movie.
"Beerfest"
The beer drink world championship.
I can laugh super.